Red Bull Commercial
The Greasy Brothers were featured in Red Bull's latest flugtag commercial. Red Bull is promoting this year's Flugtag events by showing highlights from previous events. You can see the commercial at www.redbullflugtagusa.com

ROCKY TOP ROCKET FOR LIFE! - Brad's Tat.
Brad's left arm is now home a freakin' sweet Flying Banjo
tattoo. Join the club and get yours now!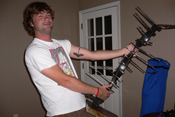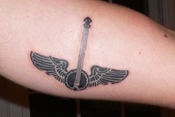 Rocky Top Rocket Takes First Place at Flugtag Nashville And Sets A New Distance Record!
With a record setting flight and a skit that could make all your wildest dreams come true, Graham Kentucky's Greasy Brothers Inc. took home the coveted Grand Prize at Red Bull Flugtag Nashville. The Rocky Top Rocket flew 155ft to set the new North American distance record in front of a crowd of 80,000 at Nashville's Riverfront Park - the largest Red Bull Flugtag crowd ever in the U.S.




Greasy Brothers in the News:

Kentucky's Rocky Top Rocket sets new North American record
RedBullFlugtagUSA.com

Gibson Banjo Sets New North American Flight Record!
Gibson Intruments

Music City Makes History in Front of 80,000 Spectators
Yahoo News with a Great Shot of the Flight

Murray State Alumni Soar with Rocky Top Rocket
Murray State University

Flugtag entrants try to fly, make a splash
The Tennessean

A flying banjo full of brotherly love
Channel 14 WFIE.

Flying banjo sinks, sets record at Nashville Flugtag
The Blue Grass Blog

Brothers aim for glory in flying banjo
Bowling Green Daily News.

Nashville's Flying Banjo
Redbull.com

Locals take flight with Flugtag
MTSU Sidelines

Rocky Top Rocket takes first place at Nashville Flugtag
Bowling Green Daily News




Contact us at: chewthefat@greasybrothers.com